Disclaimer: I have not been compensated for this promotion, I just LOVE this event. This has nothing to do about running.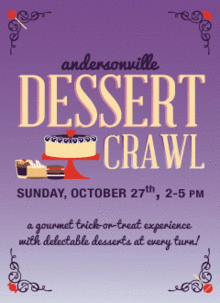 Copy and Paste from the Website:
http://dessertcrawl.brownpapertickets.com/
8th Annual Andersonville Dessert Crawl
It's trick-or-treating with a gourmet flair! Over twenty restaurants in Chicago's Andersonville neighborhood will showcase their sweetest and most delicious wares during the eighth annual Andersonville Dessert Crawl on Sunday, October 27, 2013, from 2:00-5:00PM.
This year choose between two great routes. Tickets for each route are $20 in advance and $25 the day of the event. A current listing of which restaurants are on each route (and what they are serving!) is below.
Purchase your tickets here, and then pick up your Dessert Crawl 'passport' at pH Productions, 1515 W Berwyn St., starting any time after 12:00 noon the day of the event.
CANDY CORN ROUTE ($20)
Andies Restaurant - Pomegranate cheesecake
Big Jones - Chocolate divinity
Fireside Restaurant - New Orleans banana bread pudding and wild cherry mousse
First Slice Pie Cafe - Apple streusel pie bites
George's Ice Cream & Sweets - Seasonal ice cream, pastries and chocolates
Kopi Cafe - Mini cheesecake squares
M Henry - Lemon pie and other delights
My Private Chef (at In Fine Spirits) - Pumpkin mousse with ginger cookie garnish
Swedish Bakery - (at pH Comedy Theater) Swedish butter cookies
Starbucks - Caramelized apple cake
Terry's Toffee - Assorted Toffee
Urban Orchard - French pastries from Éclair Bakery + Sheekar baklava
CARAMEL APPLE ROUTE ($20)
First Slice Pie Cafe - Apple streusel pie bites
Hamburger Mary's - Fried Twinkies and fruit cobbler
Let Them Eat Chocolate - Choice of one gourmet Belgian chocolate or sample-sized portion of all-natural gelato
Pauline's (At Painted Light) - Apple cranberry stuffed french bread pudding & ice cream
Potbelly - Oatmeal chocolate chip cookies, sugar cookies, chocolate brownies
Ranalli's of Andersonville - Assorted cheesecakes & toppings
Svea Restaurant (at Simon's Tavern) - Swedish Rice Pudding
Swedish Bakery(at pH Comedy Theater) - Swedish butter cookies
Taste of Lebanon (at The Landmark of Andersonville) - Baklava
Urban Orchard - French pastries from Éclair Bakery + Sheekar baklava
Vincent - Banana pot de crème with butterscotch shortbread
The Wooden Spoon - Chocolate cream-filled cupcakes
I've done this event a few times (think most of my photos are on an old SD card for my previous phone).
If you are worried you won't get your money's worth.. stop. I have yet to finish a route, some places give you GIANT servings. Stop and think, I am 6'3, 180lbs, run a lot, and this beats me every year. Do it!
My wife and I will each buy one route so we can try both offerings! I would love if some of you joined me! Please comment below if I can count on you to indulge with us and share memories of doing what America does best!