So what morsels of blog fodder do I have for you today? (does that even make sense? it does now)
For those of you that don't read more than the first two lines:
For the rest of you...
If you want to listen along to what I am writing:
I heard he got that hot new thing, it's called Switch
Friday: Easy 50 minutes of running. It feels... nice again to be running butt crack of the day early. I saw maybe two people in that time period.
I've been mulling over what the heck is wrong with my chest since the marathon when I suddenly couldn't suck wind like I was an air chicken head. (props if you know what I mean)
I just tossed it up to exercise induced asthma, and the week off after I felt normal. But now.. every day, the middle part of my chest up to my throat is.. tight.. jankie. It happens when I try to read to my kid, randomly in the afternoon and evening, and when I try to run faster than 8 minute miles.
Now we are listening to:
Oh I'm Party Starter!
It was scary initially, I started thinking. F............. is something wrong with my heart?
Nope wrong area.
Okay, less scary. Did I strain a chest muscle that is pressing on my wind pipes or whatever the hell that ish is called. I called my doctor's office and their first opening is Halloween morning.
At least this literally forces me to keep my runs slow. I'd be fibbing if I said I wasn't jealous seeing my friends hustling like they robbed a bank and been PRing 5ks and running awesome tempos. (BRC represent!)
Watch whatever is wrong clear up by then. Oh well, I need a check up and flu shot anyways.
Next Track:
I'm writing this post.. Just to Get By
Aside from breathing, my left calf is still a mess. I'm pretty sure running the marathon on a LOT of advil masked a lot of issues and I'm set back a bit on progress, but I'm cool with it. Just gotta keep taking it easy with my runs and just get by until I'm healed again. Last year at this time I sprained my right calf to a rather unpleasant level, so tis this season I guess.
Also my reflection vest came in Friday!
Next Track!
Taking you on the Freeway
Saturday: Another 50 minute run. Almost a carbon copy of Friday's run. A few second difference, same distance, same issues. Except this time I got to use my vest!
Selfie when I got back from my run!
Today was also the 3RD ANNUAL 48TH WARD HALLOWEEN PARADE & FEST
Next Track and genre!
Watch these bloggers jump when I get loose!
We went with the Erin and her daughter. Here are some images from the day:
There are a few more photo's on my wife's phone, stay tuned for more!
Almost done track:
Watch out for that Big Truck!
This evening all the moms in the new moms group my wife attends are having a ladies night out, so I'll be hanging with the dads and kids. Will any of them want to talk about running or the Chicago Bulls? I hope so..
OH YES! Annebelle (See Fluency's Folly) alerted me yesterday that the Dr. Who 50th anniversary special would be in theaters on 11/23!
We totally scored tickets to go! I can't wait!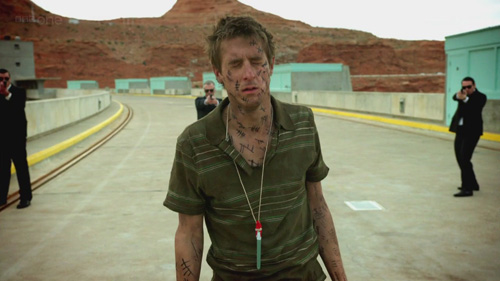 I'm counting down the days
Lets roll this post to an end:
Take a descent with me
Tomorrow is the dessert crawl in Andersonville! Last call to let me know if I should look for you, I'll be making this face!
Your face as you finally finish this post:
Now go ahead and tell me how horrible this experience was: